More info
FAQ
What's CardanoSpace?
CardanoSpace is a website of which everyone can own a piece. It's virtual real estate—unreal estate ✨
The website is a 100x100 grid. Each cell in the grid is an NFT.
If you own the NFT, then you own that part of CardanoSpace. And you can do things with it (more on that below).
CardanoSpace is a central hub for the community, where we can hang out, explore NFT projects, promote stake pools, be creative and celebrate events!
When can I buy the NFTs?
We are sold out. NFTs are available on secondary sales platforms like Tokhun.io and CNFT.io
What is the CardanoSpace policy id?
For CardanoSpace Coordinates: e3ac0dd93edbe6bafec38fb120cf7c3e223686a97261008c2bfe0d6d
For the UnsigSpace earthdrops: 165f8fa6918cc42268e1c1a3faf42f354b79fbd0b07c2fe61d402f41
For the Alonzo Upload Party earthdrops: e246da43032167e581837a7eac691b2a826fb70e6508f9d4c41026ef
For the Weekly Where's Waldo's: dd589bbcfa48c9a133a22e205da33a5d07ef79dac1f8d5d8067b1004

What can I do with CardanoSpace NFTs?
We call the NFTs: Coordinates.
So let's say you own Coordinate B-12.
Then you can:
Change the image displayed at B-12 on CardanoSpace
Write a message displayed when someone mousehovers/taps B-12
Pick a URL that's linked to
It's your home. Use it for whatever you want!
People have already used their space for scavenger hunts, promoting charities, shilling NFTs, flexing CryptoPunks and rare SpaceBudz, announcing auctions, representing stake pools, congratulating newly weds, publishing literature and many many more things.
Everything is on-chain, and you can change it anytime you want.
So CardanoSpace NFTs are not just collector's items. They hold long-term utility value.
You could even update your space programmatically, in response to real-world events or to other parts of CardanoSpace.
When smart contracts drop, they, too, will be able to own and control parts of CardanoSpace. As well as DAOs. We're going to see some weird and epic stuff 🚀
That's the basis of how CardanoSpace works. We have much more functionality planned—check our roadmap if you're interested.
Do we need to wait for smart contracts?
Nope! You can already use these interactive functionalities.
CardanoSpace is the first Cardano NFT project with on-chain utility value. Inspired by SpaceBudz, we use metadata in a clever way so we don't need smart contracts for our functionality.
More details on how it technically works here.
How do you reward holders?
We have an earthdrop system. They're like airdrops—except you have to come pick them up.
You do that by uploading something new to your space while the earthdrop is active. (Usually you'll have several days to do that.)
The earthdrops can be anything—collaborations, celebrations, rewards and easter eggs.
Sometimes they're common, sometimes they're very rare. Sometimes they're randomized, and sometimes they're based on a competition.
For the endless possibilities of the earthdrop system, read this Twitter thread.
It's a totally new way for an NFT project to keep the community active, reward long-time holders, and just have fun.
Our first earthdrop was the Unsigned Spaces collection, an exclusive remix of Unsigned Algorithms. Read all about it here. CardanoSpace holders got them earthdropped to their wallets by uploading something new to CardanoSpace.
Our second earthdrop will be an upload party in celebration of the Alonzo launch. More info very soon!
Are there rarity classes and traits?
Yes. All 10,000 Coordinates have unique artwork, in a pixel space theme: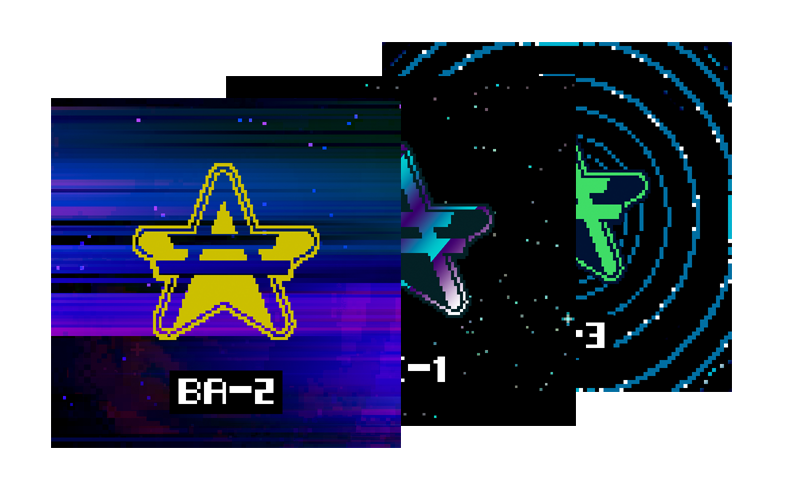 Some are more rare than others.
Some are very rare.
And some have special features on CardanoSpace, such as the ability to use GIFs—and some secret features as part of the roadmap we'll announce later 😏
For all statistics on traits and rarity classes, check the #rarity channel over at Discord. To explore our NFTs and their artwork, see this page.
Who's the team behind CardanoSpace? What are your plans with the project?
We're Garm and Jasper, from Amsterdam, The Netherlands 🙋‍♂️🙋‍♂️
We were product managers at a small fintech startup. A couple weeks after starting CardanoSpace, we quit our jobs to work on Cardano fulltime.
For us, the fun thing about CardanoSpace is that it's not a "mint, sell, bye" project.
We've come a long way since v1.0, but we've also just begun.
We'll continue to develop this into a full-fledged community hub, adding features and improvements both useful as well as plain fun. Check the roadmap!
Our ambition is for CardanoSpace to be of lasting value for the community. We're committed to creating more and even better ways to create on-chain utility value.
Want to get to know us better? Our friends over at The Never Engine interviewed us a while back. It was a great conversation (starts at around 10 minutes). Check here!
Keep in touch: