FAQ
What's CardanoSpace?
CardanoSpace is a website of which every cardanian can own a piece.
The website is a 100x100 grid. Each cell in the grid is an NFT.
If you own the NFT, then you own that part of CardanoSpace. And you can do things with it (more on that below).
Our goal for CardanoSpace is to be a central hub for the community, where we can hang out, explore NFT projects, promote stake pools, be creative and just have fun!
When can I buy the NFTs?
Not yet, we're still in development. We expect to be ready within a couple of weeks, and we'll announce the main sale when we are! Keep an eye out on our Twitter or Discord.
If you're an SPO or NFT creator and want to help out as an early adopter while we're still tweaking the system, you can join our beta presale.
What can I do with CardanoSpace NFTs?
We call the NFTs: Coordinates.
So let's say you own Coordinate B-12.
Then you can:
Change the image displayed at B-12 on CardanoSpace
Write a message displayed when someone mousehovers/taps B-12
Pick a URL that's linked to
It's your home. Use it for whatever you want!
Knowing our insanely creative community we can't wait to see what people come up with.
Everything is on-chain, and you can change it anytime you want.
This way, CardanoSpace NFTs are not just collector's items, but also hold long-term utility value.
And your space neighbors will also change their images/urls/messages. So we'll get a living, breathing page (and we'll add a Timetravel mode in the future so you can see the history unfold).
You could even update your space programmatically, in response to real-world events or to other parts of CardanoSpace.
That's the basis of how CardanoSpace works. But we have more functionality planned—check our roadmap if you're interested.
Do we need to wait for smart contracts?
Nope! You can already use these interactive functionalities.
So CardanoSpace is the first Cardano NFT project with on-chain utility value, which we think sounds pretty cool 😎
Maybe we could even call it the first working Cardano dApp?
Massive hats of to SpaceBudz though, who inspired us to do it like this. More details on how it technically works here.
Can I also trade my CardanoSpace NFTs?
Yes!
Next to the interactive features, they're normal NFTs just like SpaceBudz, CardanoBits, CryptoKnitties and all the others.
You can trade them, collect them, hold them, sell them etc.
(In fact, "trading" your Coordinates to yourself is what makes the functionality of CardanoSpace possible.)
All 10,000 Coordinates have unique artwork, in a pixel space theme: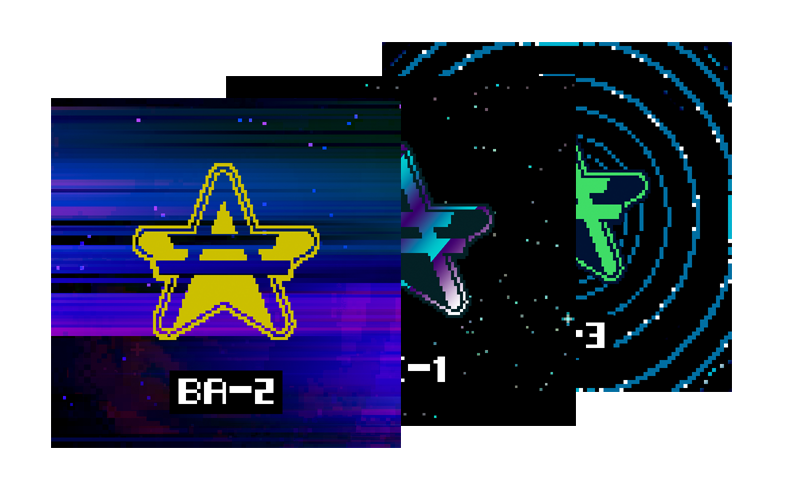 Some are more rare than others.
Some are very rare.
And some have special features on CardanoSpace, such as the ability to use GIFs—and some secret features we'll announce later 😏
How will the sale work?
Fully automated. No Google Forms.
We believe quality is important and SpaceBudz set the golden standard for how it should work:
You click buy
You get an amount and an address
You transfer ada
You get confirmation
The NFT is automatically minted and sent to you
However, we're aware of the recent launches that had server issues. As we're developing CardanoSpace we'll be closely watching how other projects launch, and think of suitable solutions.
Maybe we'll do a sale in batches instead of all-at-once, or work with private links that give you a couple of hours to finish your purchase.
In any case, the Coordinate you get is randomized. So everyone gets a fair chance at the rare ones (and it's fun to see what you get!)
We added one thing though:
The ability to buy multiple Coordinates at once. For instance, maybe you want a 3x3 grid. Then you can buy 9 NFTs at the same time. Their location is randomized, but they'll be next to each other.
We're currently stresstesting the system in our beta presale, to make sure everything works, all metadata is correct, etc.
Regarding pricing: 96 ADA for the first wave.
Why? It's the last pricing tier we reached during the beta.
This is a flat price, so it's not necessary to try to be the quickest to buy!
Who's the team behind CardanoSpace, and what are your plans with the project?
We're Garm and Jasper, from Amsterdam, The Netherlands 🙋‍♂️🙋‍♂️
By day: product managers at a small tech startup.
At night: chilling in cryptoland, being in awe by everything that's going on, enjoying the Cardano community and learning Haskell!
For us, the fun thing about CardanoSpace is that it's not a "mint, sell, bye" project.
V1.0 is just the start.
We'll continue to develop this into a full-fledged community hub, adding features and improvements both useful as well as plain fun.
Our ambition is for CardanoSpace to be of lasting value for the community. We're committed to creating more and even better ways to create on-chain utility value.
If you're interested, check out our roadmap!
Right now we're working nights and weekends. With the revenue from the sale, we plan on doing this full time soon.
More info coming soon
Keep in touch: